Sophont
Sunday, April 04, 2004
Tigger
OrlandoSentinel.com: Central Florida News
: "Orange County Sheriff's Office investigators have arrested a Walt Disney World employee who worked as the character 'Tigger' and charged him with molesting a 13-year-old girl and her mother while posing with them for pictures in February.
Michael Chartrand, 36, was charged with one count of lewd and lascivious molestation of a child between 12 and 15 years old and one count of simple battery.
He was booked into the Orange County Jail today on a $2,500 bond.
A Disney spokeswoman said Chartrand has been suspended without pay.
The sheriff's office received a complaint that a costumed character at Disney World had touched a girl and her mother inappropriately while their pictures were being taken with the character Feb. 21. According to an incident report, Chartrand fondled the breasts of the girl and the mother while posing for pictures at the Magic Kingdom's Toon Town.
'As the photo was being taken, [the victim] claims that Tigger moved his right hand up to her right breast and started massaging it several times,' the incident report states. [The victim] became very embarrassed and ashamed of the incident and claims that she did not say anything to her mother until they left the park.'
Later, the girl learned that the costumed character had done the same thing to her mother with his left hand, the report says."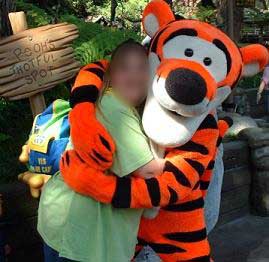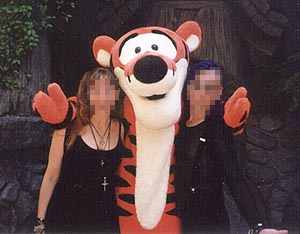 jaynote: as if he could feel anything thru those gloves.... and 5 days to report this?
---