Sophont
Monday, September 06, 2004
Art of fine coffee is in your face [17apr04]
Herald Sun
: "Cafe owner Chris Phillips chose an unusual medium to create art - the cafe lattes he serves by the trayful at his Richmond cafe.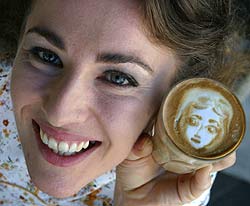 'When you pour the milk in and the cream hits, it's just like a blank canvas on which to paint,' the 36-year old said.
Mr Phillips and fiancee Bernadette Farrugia started Flavors of Lakhoum in Swan St five years ago and he dabbled with the idea while pouring coffee.
'Sometimes you see swirls and patterns when you're pouring the coffee in, and one day I was pouring it and I saw an eye appear,' he said.
'From there I just drew in a mouth and ears. I've been slowly practising since then, but have got pretty good in the last few months - every month I find ways to add more detail.'
The pictures usually only take about 30 seconds, meaning your coffee doesn't suffer for the sake of art."
---