Sophont
Sunday, September 19, 2004
1.3kg meteorite
STUFF
: "American collectors with open chequebooks are expected in New Zealand within days to bid for the 1.3kg meteorite which exploded through the roof of an Auckland house yesterday.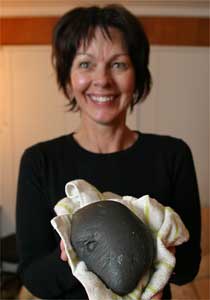 The hit is a billions-to-one event which adds thousands to the value of the grapefruit-sized rock which plummeted through the tiled roof of Phil and Brenda Archer's Ellerslie home at 9.30am.
Collectors are also expected to begin combing the suburb for other pieces which may have survived the molten descent.
It is only the ninth meteorite ever found here and the first to hit a home. The last one was found in 1976 but it is not known when it landed. Worldwide, such strikes happen only once every three or four years.
'I was in the kitchen doing breakfast and there was this almighty explosion,' said Brenda Archer. 'It was like a bomb had gone off. I couldn't see anything, there was just dust. I thought something had exploded in the ceiling. Phil saw a stone under the computer and it was hot to touch.'
The rock hit her leather couch and bounced back up to the ceiling before rolling under the computer. The Archers' one-year-old grandson Luca was playing nearby just minutes before the impact. 'He must have a guardian angel,' she said."
---