Sophont
Saturday, May 29, 2004
Israel Defense Forces - The Official Website
Israel Defense Forces - The Official Website
:
"Israel Channel 10: Armed Palestinians Use UN Ambulances in War against IDF
Tuesday 25/05/2004 17:38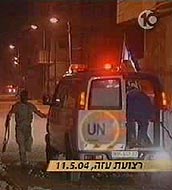 Armed Palestinian boarding a UN ambulance. Picture by Channel 10
Israel channel 10 aired yesterday Inon Maga'l item showing armed Palestinians use UNRWA ambulances to flee undercover.
Photographs taken at the Gaza Zeintun neighborhood about two weeks ago, on the same night the first APC was exploded, clearly show armed Palestinians boarding a UN-marked ambulance with a UN flag, and flee the scene.
The reporter stressed that this was not a Palestinian Red Cross ambulance, known to have transported armored Palestinians since the outbreak of events, but rather a supposedly neutral ambulance of the UN."
---