Sophont
Sunday, March 20, 2005
Rat Birthday Cake
RachOfTheJungle
: "First, I made a regular box cake. Then I ripped chunks of it out to look like it had been partially eaten.
Then, I covered the remainder of the cake in icing and decorated it all boring-like. I pinched the icing at the edges to look bitten.
I made the rats out of brownies sculpted in the shape of rats. Then I covered them with rolled fondant (a kind of icing) and painted them with icing color paste.
Finally, as a last touch, I made little rat turds out of brownies"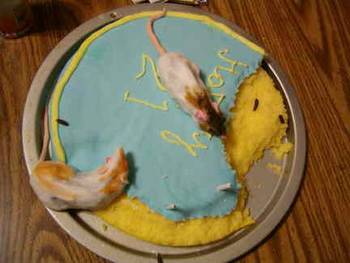 ---